My voice was strained as I narrated my audio book, so I took up singing.

At my first lesson, the teacher reported that in normal conversation, I was breathy. Not breathy as in Marilyn Monroe in a skin-tight flesh-colored gown singing "Happy birthday, Mr. President." Breathy as in choking on an olive pit.

However, she said my reading voice was resonant. I don't know what that means, but it sounds like something that will make my jokes wittier and my observations pithier.

At my book readings, I read into a microphone wirelessly connected to a portable speaker. This set-up will provide the solution to my breathy conversations.

From now on, I will wheel a speaker around every day, much like a portable oxygen tank. Instead of oxygen, the cordless mike that curls under my nose will drip resonance. Wit. Pith.


I'll buy this fancy orange speaker, so you'll be able to see me coming.


Then I'll decorate it. On top, my logo—Teresa Mandala's rowboat, which reminds me it's bad form to look down on other people, but good to view my own life from above.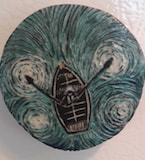 I'll plaster on pictures of the Happy Trails Hiking Club. At some point during every Sunday hike, Kelli Austin (fearless leader, orange pants) poses us looking like a rock band at a photo shoot. Serious album cover art will make it legit that I'm lugging around a bass guitar amp.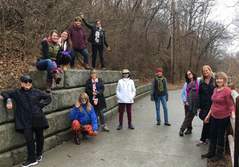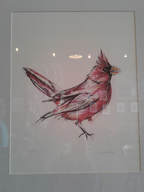 And I'll have Melissa Dehner add her drawing of the one-legged cardinal that lives in her backyard. This will give me inspiration in my quest for a beautiful voice. As an ancient guru once said, even a one-legged cardinal sings purty.

When I'm squeezing through a coffee shop, please forgive me if my thirty-pound speaker rolls over your toes or knocks over your latte. No more breathy conversations for me. With friends alongside and a speaker giving me voice, I will have resonance.
---