A change of pace today, a long leisurely story. It's my way of saying slow down, take some time to think things over.

You've read this one before, in sections. Here it is, all put together as one cohesive whole, with one cohesive message. Life can feel lonely, but we're in it together, you and I. When you buy Searching for My Heart this coming May, this is the first chapter you'll open to. Your particular circumstances differ from mine, but I hope when you read this essay you'll see a bit of yourself.
---
A TRAVELER'S TALE
I

Des Moines. August.
I squatted on the stairs after a round of hopscotch, while a mosquito buzzed around me. After it found the thin skin on the inside of my arm, I smacked it, but another took its place. A third landed on my ankle. A final smack and I returned to picking at a scab––an injury caused by jumping from the top step the day before, believing I could fly. I'd crashed onto the bricks, more shocked by the fact of gravity than hurt by the impact. The wound stung but didn't bleed, and the fall left a gouge in my elbow, like I'd scooped out a spoonful of flesh. Afterward I'd searched on hands and knees, trying to find the missing piece of me.
Heat waves shimmered over our brick sidewalk, which divided the front yard in half from stoop to curb––the bricks in a chevron pattern with dandelions growing in the cracks. Step on a crack; break your mother's back. Beside the porch, marigolds soaked up the sun that baked the earth beneath them. Yellow and orange blooms stood out like colored sprinkles accidentally spilled in the parched brown grass. In a corner of the yard, where the grass sloped down to meet the street, a buckeye tree spread a ring of shade.
My cousins and siblings––along with a few neighborhood kids––prowled the streets in a Lord-of-the-Flies tribe that inflicted damage on body and spirit, according to shifting alliances. I hung around the periphery. Sticks and stones will break my bones, but words will never hurt me. A lie. Words caved me in and sent me running back to the house.
"What's wrong with her?"
"Who cares?"
Firefly lights circled my finger like a diamond ring, as if I had been chosen—maybe by the boy who sat two desks over from me at school. As if I knew how to be chosen. That was me on the sidelines when the tribe played baseball. "Don't pick her. She strikes out." Me, hiding in the bathroom when they rode bikes. And me who sneaked out the back door, when the others gathered in the house to play Cootie. Cootie gave me nightmares.
Days ended in hide-and-seek––one last ritual to endure until the streetlights announced suppertime. It leaned into the buckeye tree and counted to ten. I raced to our backyard, past the clothesline tented with sheets, past a patch of wild rhubarb. Seconds before "Ready or not, here I come," I kneeled behind the garage. Clods of hard clay poked dents in my palms, and the sticky twilight left no place for sweat to go except running into my eyes. A bumpy rash between my fingers itched like crazy, but scratching only intensified the itch. I squished a mosquito on my leg, and the burst body left behind a slime of blood, legs, and wings that I wiped into the dirt.
Garage doors crashed open. Footsteps crunched the gravel drive, predator in pursuit of prey. Huffing. A body thudded against a tree trunk.
"Safe."
"Nuh-uh. Gotcha."
"You wish."
A rock thwacked against flesh, then hit pavement.
"Ow. Jerk."
After the last person made it home safe, I sat back on the ground. A push mower clacked in a yard across the alley, and the smell of new-mown grass floated me away from heat blisters and Cootie and what's wrong with her. Away to Anywhere, Not Iowa, USA.
The fantasy would come true. I would travel from Iowa to Anywhere and back again. But I was a hummingbird, furiously beating my wings to stay in one place, hovering over the sweetness, unable to make a home of any single bloom.




II

Santa Barbara. July.
The tide sucked sand from under my feet and threw me off balance. Kelp snaked around my ankles. The receding surf blanketed my toes with foam and left them icy, even as the sun warmed my shoulders. Gulls screamed at a collie twisting in mid-leap to catch a Frisbee. I backed away from the water and strolled uphill to join my best friend Angie Mendoza, waving to me from a picnic table.
We were spending the night on East Beach with her cousins. We had a job to do: stake a claim on a spot for the next day's Fourth of July picnic. Mothers and abuelas would arrive early in the morning to cook chorizo, but the night belonged to us teenagers. We danced, gossiped, and smoked pot. I flirted with Angie's doe-eyed, long-lashed third cousin from Tijuana, overlooking the fact he did not flirt back. As we wandered along the beach to see who else was camping, "Stoned Soul Picnic" blasted from a car stereo and blended into Jose Feliciano singing "Light My Fire" a few cars down. The tunes were as familiar as Angie's patchouli, a fragrance too delicate to obscure my discomfort at the all-Spanish conversation poking through the night music. Despite straight-A diligence in high school Spanish and weekend immersions into the Mendoza household, I was stuck at almost fluent—Angie's black friend, almost mija.
When we finally crawled into our sleeping bags, stars polka-dotted an inky sky. Phosphorescent waves rolled in. Plankton, caught up inside the foam, dipped and twirled incandescence along the beach. Beyond the froth, the deep. An abyss that consumed both shoreline and horizon, the sea spread past the edge of hope, black as a heartache.
I zipped my bag tight against the ocean-cold night. Sparks rose from our fire pit along with the scent of burning wood. An occasional snap broke through the lull of crashing surf, as the waves beat an effortless rhythm.
For a moment, the loose sand conformed to the contours of my body, before shifting beneath me. Inextricably connected to the pull of the ocean, earth gave way and left me unsupported, adjusting to find comfort.
In years to come, the ground would shift with regularity, but I was out of sync, unable to catch the rhythm.



III

Saint Louis. August.
Traffic whizzed past me, down South Grand Boulevard, too close. I kept near the buildings––family shops that butted the narrow sidewalk. Weathermen proclaimed it the hottest summer on record, but I was not discouraged. Only on foot could I lose myself in the eccentricities of my new neighborhood, and I was determined to make this neighborhood my home.
When a car engine throttled down from whiz to idle, I turned to investigate. A boat-long '70s sedan pulled within arm's reach. The driver pushed his sunglasses down the bridge of his nose, lizard eyes peering over the frames at me. Idiot. I walked away, and lizard-eyes sped off.
Behind every facade lay a treat: German import shop, Italian restaurant, bakery, used bookstore. Even a neighborhood market. South Grand held a place for all of them. There'd be a place for me, too.
Days later, temperatures broke. At seven a.m., eighty degrees, I seized the chance for a mile-long stroll to Tower Grove Park. A motorcycle roared between lanes as it whipped through a yellow light. The station wagon behind it screeched to a halt at the red. I turned down Magnolia, a leafy street with broad lawns that absorbed the traffic noise from Grand. Halfway down the block, I paused before jaywalking to the park on the other side. A car stopped to let me cross. I waved thank you. The driver was pursing his lips in a slow-motion kiss.
Fuck.
My heart raced, but I strolled with fake nonchalance into the park to find cover. Inside a gazebo, I sank to the floor, panting as though I'd been chased. There was an edge to the mid-morning stillness, which caused me to jump when squirrels rustled through the trees. I was desperate to get home, but how, which way? Was he waiting? I crept across the expanse of green and zigzagged through side streets.
I stopped walking for two weeks.


The temperature climbed to a hundred, but I needed eggs, and the market was only a couple blocks away. Besides, I missed South Grand.
I reached the store just as a bus groaned to a halt, spitting riders from its maw. Inside the market's sliding doors, air conditioning turned my sweaty skin to shivers. I grabbed a cart and headed toward the dairy case, tossed in Oreos and Diet Coke along the way.
The register dinged my total, and the clerk snapped open a grocery sack. "Find everything okay, ma'am?"
"Sure did."
Overhead Diana Ross questioned, "Why do fools fall in love?"
A man lounged on the bus stop bench, skinny as a knife blade. He was leaning forward, elbows on his thighs, hands dangling between his knees. He swiveled in my direction, his flat expression trained on the spot where humidity plastered my tee shirt to my chest. I shifted the sack to cover myself, but he saw through both the bag and the shirt. Determined to keep my pace steady, I crossed in front of him, the air between us as thick as diesel fumes.
Legs trembling, I reached the corner two doors from my apartment. As I stepped off the curb, in front of a car at the stop sign, a passenger poked his head out the window. "Hey, baby. Fine sister like you all alone?"
Fucking shit.
I staggered into the apartment, but its double-locked door offered no reassurance.
South Grand was not my home.



IV

Minneapolis. January.
Twenty below and too cold to snow. The streets had shrunken into narrow passes that cut through mountain ranges of drifts, blackened from exhaust smoke. The drifts were permanent features in the landscape between Halloween and April Fools Day. I found a parking space, noted the church on the corner, and slogged half a mile to campus. Dwarfed by the three-story Greek columns of Johnston Hall, I was hopping from foot to foot just outside the glass doors. A woman on the inside, pulling on her mittens, blocked my way in. Let me in I'm gonna die I'm gonna die I'm gonna die. Irritation fueled a tiny fire that lessened the chill from one square inch of my flesh. After the woman breezed by, I rushed in to the lobby, where I stomped snow off my Sorels.
Climbing the stairs to the third floor, I molted. Unwound the wool scarf from over my nose and mouth. My breath had been warm and moist inside the scarf, and was shocked to meet up with the chilly lobby air. I pushed the hood off my head to rest between my shoulder blades like a cape. Plucked off earmuffs and in a single well-practiced wrist-flip, snapped them into a compact bundle, which slipped into my coat pocket. Unsnapped then unzipped the down coat, an action made clumsy by my gloved hands. I hated to take off my gloves; my fingers still ached with cold. Mittens. Gotta get mittens.
One more adaptation, and I'd feel at home.


I was a grad student at the University of Minnesota, which put my mind into research mode, cracking the code of Minneapolis winters. I could write a thesis on driving skills alone: pump the brakes, don't hold them down; downshift on hills, don't brake; correct your steering less than you think you should. I learned how to plow my Honda CRX through bumper-deep slush. I adjusted my route home to test my ability to take off from a stop sign at the crest of a slippery hill. When my tires began to spin, I rolled back until the front tires found purchase. My confidence surged, and my pride, too: I'd adapted.
But my skills were merely the survival techniques of a traveler just passing through. The harder I tried, the less at home I felt. Home is the place where effort is laid to rest.
Locals, with names like Larsdatter, Helland, and Oefstedal, traced their bloodlines in rituals handed down by the tribe: ice skating, ice fishing, ice sculpting. I had enrolled in a cross-country ski class, but on the first day, had fallen on top of a little blonde girl and did not return for further lessons.


At the end of my workday in Johnston Hall, I layered up again—coat, earmuffs, hood, scarf, gloves—and walked back to my car through the early dark. The church was there. My car was not. I searched up and down the block. It must have been a different church. A different block. I ransacked my mind for clues, but what was refused to turn into what ought to be.
Back at my desk, I called the police to report my car stolen. The bored operator on the switchboard said, "Probably towed. Driver's license number?" She found me in the computer and my car at an impound lot. How would I get home? How would I get my car? How would I pay the ticket? My mind wobbled to its feet and reconstructed the scenario: that I'd noticed a church but not a half-buried pole that bore vital parking information. "Happens a lot this time of year," the operator said.
Gotta look harder for parking signs.
One more adaptation, and I'd feel at home.




V

Kansas City. May.
North Main Street was littered with storm debris.
Tornado sirens had wailed the night before, and I'd huddled in a bathroom, every minute at least an hour long, but no funnels had touched down.
Setting out on my morning walk, I dragged a downed limb onto the growing pile on our lawn. I pushed my long sleeves above my elbows. A chainsaw whined in the distance, as I strode toward Briarcliff Greenway, a block-long swath of grass and dandelions the city kept mowed. A dust mop of a puppy bounded toward me, her brush tail slicing the air with hello come play, and a young woman on the other end of her leash. I stooped to pet dust mop, but couldn't get in a good pat. She hopped and squeaked and wound her leash around my ankles, while the young woman tried to untie me. "Sorry. She's training."
Such was our routine. I knew they lived in the blue house on the corner. I knew she'd planted a stand of coreopsis in her front yard, whose yellow starbursts surprised me every summer.
Sometimes the young woman was accompanied by a toddler pushing an umbrella stroller. Once we'd met as the retinue was just starting out, and the little girl had skipped along in my blind spot. She'd peppered me with questions and her own answers, during which I'd fantasized a life-long friendship between us. (taught her to read, gave her sage advice after a teenage spat with her boyfriend.)
The young woman untangled the leash from my feet. I wanted to ask her name, but she and the pooch hurried past, toward their blue house on the corner, dust mop's yap yap yap fading ….
At the end of the greenway, the sidewalk u-turned into a wooded hillside, zigzagged by blacktop trails. A sign identified the network as Briarcliff Trails of Our Community. Our community, a paradox, a mystery.
Because the pathways climbed to an elementary school, the trees wore name tags, white cards tacked high onto the trunks: shumard oak (far from its origins on the Atlantic coastal plain, a traveler like me), sugar maple, river birch. Just in time, a glimmer warned of a spider web, which dangled from branch to ground, as wide as a man's outstretched arms. Dodging the web, I noticed a doe, yards away, posed on the blacktop like garden statuary. Her head lifted, black orbs trained on me.
Will it attack? Dawn, it's only a deer. Maybe the one that ate my tulips.
The deer didn't move. I didn't move.
How can a living creature be that still?
Individual hairs on her coat leaped into 3D––tan, black, white. Her impossibly opaque eyes drained the tension from my muscles. Her quiescence gentled my hummingbird mind to a soft landing on this bit of blacktop. Locked in a staring contest with a deer, I was planted firmly on the earth.
She showed no fear. Her unflinching stance telegraphed that I was nothing special. Just a piece of the familiar landscape. A two-footed specimen she'd encountered often during a morning forage. I belonged.
The hair on my arms rose in response. Anywhere Else lost its allure.
Facing off across the asphalt, the deer and I shared a space that required no ritual for admission other than standing still. Over the years, I'd raised great clouds of dust, flapping my angst around, trying to fit in. When the dust settled, right here materialized, where each creature, two-footed and otherwise, occupied its rightful corner. A robin stalked along the edge of the underbrush, perfectly at home in suburbia; after all, urban development had softened the soil, transforming it into an easy pathway for earthworms. The fat russet breast bobbed up and down, as the robin tugged its brunch out of the ground. The spider I'd sidestepped was working its way toward a recent catch. If I had stumbled into its web, it would have made repairs efficiently and hunkered down for the next meal. Adaptation without angst.
The deer slipped into the underbrush, at ease on the pavement, at ease in the scrub. I envied her sure-footedness.
I started up the hill again, always uphill. Lost soon enough in the effort.



---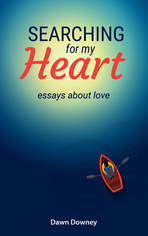 ---