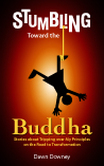 I'm excited to announce my book will be available on Amazon by the end of January. Stumbling Toward the Buddha: Stories about Tripping over My Principles on the Road to Transformation. A seeker examines her foibles and accidentally makes peace with politicians, Precious Moments, family violence and the emptiness of life.

Wouldn't you know it, just as I was reaching around to pat myself on the back, one of those foibles showed up: I'm afraid somebody's going to be pissed.

Leslie will be angry because I told the world Dad gave her a black eye. Dad won't be mad––he died in 1994, but his friends will be irate on his behalf.

Collectors of Precious Moments will be offended because, even though I tried to be neutral in that essay, there was some sarcasm seepage.

Ben will be upset because I wrote too much about him. My first husband will be annoyed because I wrote too little about him. My college friend will fume because she had to find out about it through the alumni magazine. Oh, Lord. Why didn't I call her? Should I do it now?

To play it safe, I changed a few names in some chapters, which was an exercise in self-delusion. Those pseudonym'd people will recognize themselves. They'll be mad.

It's not a book. It's another opportunity to face my favorite demon.
Hello fear. Have a cup of tea.